REGISTERED RETIREMENT SAVINGS PLAN (RRSP)
Contributing to an RRSP is one of the most significant Retirement and tax planning option available to Canadian taxpayers. By making contributions to a plan not later Than 60 days after the current year end, a deduction from income can be taken in the current year for the amount within certain limitations.
Why us
Everybody enjoys the life with success achieved so far and knowing there is so much more to come. The pace of our life is so fast and at times we aren't quite sure how we got here – yet, we have an idea of where we want to be.

Life is not a straight line yet our persistency, endurance, planning and objectivity always deliver happiness by achieving results and over time our aim is to achieve more in life. And we all have different definitions of what that looks like.
Time is on your side
To grow your savings, you need to invest them.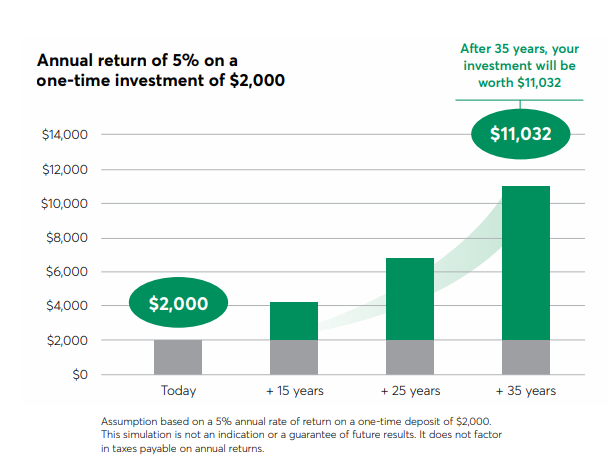 How registered plans can give your savings a boost.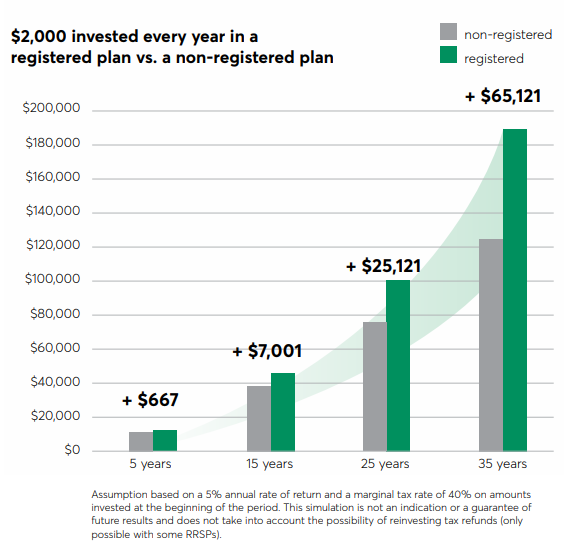 There's an added benefit to contributing to a registered plan: the return on your investments is not taxed.1 That means you can take full advantage of compounding interest. It's a great reason to set up a meeting with your advisor to plan your contributions!

Not only will your savings grow, but you'll also be able to capitalize on the interest your investment earns, assuming it makes a profit. That interest will get added to your capital and will grow itself the following year. So the sooner you start saving, the more you'll benefit from the interest on your interest, also known as compound interest.
How often you contribute also makes a difference
You'll save even more by contributing a small amount each month instead of waiting to make a larger contribution at the end of the year. Why wait when you can immediately start earning a return on the money you invest? And if your regular contributions are registered in an RRSP or a TFSA, the interest you earn is sheltered from tax right away. A smart move—and a profitable one! And that's not the only benefit of making regular contributions. For most people, it's easier to save small amounts on a regular basis than to come up with a larger amount at the end of the year.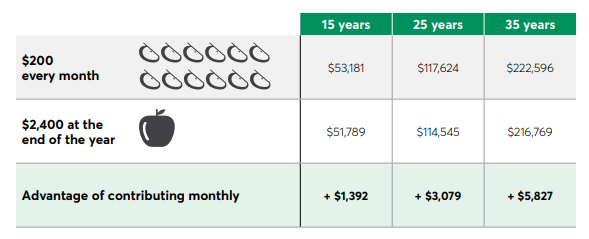 "Borrowing" from your RRSP?
Want to withdraw money from your RRSP? You should know that you can't recover your right to contribute after you make a withdrawal, since your withdrawal won't create any new contribution room. The amounts you withdraw will also be added to your taxable income.
However, you can temporarily withdraw a certain amount from your RRSP without paying tax to purchase a first home, as part of the Home Buyers' Plan (HBP), or to go back to school, under the Lifelong Learning Plan (LLP).
SPOUSAL PLANS
If you have a spouse with lower income or no income than deductible contributions may also be made to a registered retirement savings plan for the benefit of a spouse or common-law partner, which provides a retirement income-splitting opportunity. If the spouse or common-law partner will have lower income at the time the funds are withdrawn and, therefore, be in a lower tax rate bracket, it may be more advantageous to contribute funds to a spousal RRSP. In addition, annuity payments received from a spousal RRSP can be qualifying income for the spouse or common-law partner pension credit.
If funds are withdrawn from any spousal RRSP, you will be required to include in your income an amount equal to your contributions to a spousal plan in the year of withdrawal and the two immediately preceding years. This will apply irrespective of whether your spouse or common-law partner has made his/her own contributions to the plan and even if your contributions were made to one spousal plan but the withdrawal was from another. If the value of the assets in the spousal RRSP is less than the amount contributed to it (that is if there is a loss recorded by the plan), only the lesser amount need be
included in your income. However, your beneficiary spouse or common-law partner may make a withdrawal from a spousal RRSP without attracting tax in your (contributing spouse's) hands when at the time of the withdrawal the contributing and beneficiary spouse or common-law partner were living separate and apart by reason of marriage break-down. An RRSP can also be split on a marriage or relationship breakdown. Funds may be transferred without tax consequences to a spouse's or common-law partner's plan after the breakdown of the marriage if the transfer is made pursuant to a decree, order, or judgment of a court or a Written separation agreement.
Where a spousal RRSP has been converted to retirement income, such as through the purchase of an annuity, or to a RRIF, the minimum required annual payments can be made to the spouse or common-law partner without attracting tax in the contributor's hands, even if the conversion occurred within the preceding three years.
A rather popular belief is that only wealthy families need estate planning, but the reality is quite different. Any …
Future is always uncertain; planning for life means building value and realising goals. Money ….
Neither there are less books on managing money in the market nor there is a dearth of information available on internet but still Canadians….