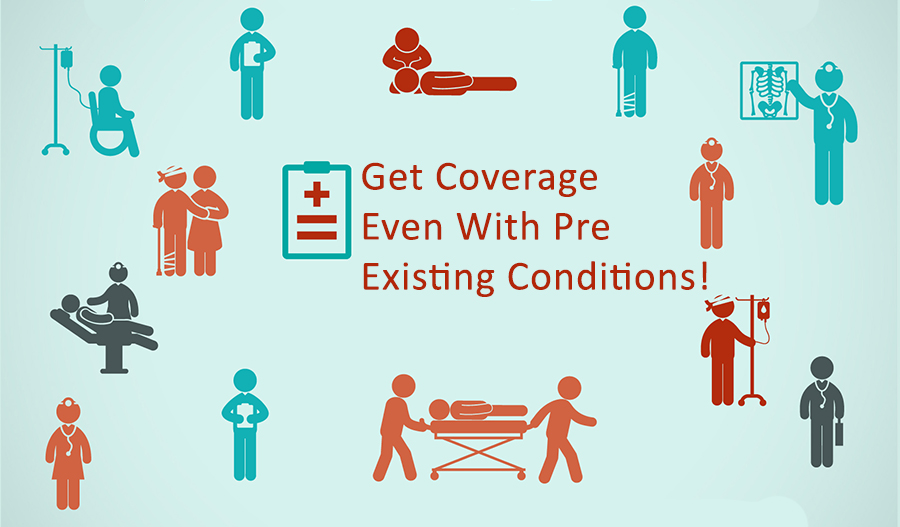 Can I get coverage for pre-existing condition in a Super Visa Insurance?
The Super Visa Insurance policy can cover your pre-existing condition like Congestive heart disease, Heart Faliures, Diabetes, Liver problems, Neurological problems, bran issues, cancer or issues ralted to any major organ of the body.
What is Pre-Existing Condition?
Generally, pre-existing condition is defined as any sickness, injury or medical condition for which the insured consults a physician, having symptoms, is hospitalized or medications are prescribed within a certain period before the effective date of Super Visa insurance or Visitor to Canada coverage.
Main points of consideration while buying Super Visa insurance with Pre-existing condition
First of all, each insurance company treats pre-existing conditions differently and this is the major reason for declined claim under Super Visa Insurance. The policy wording of each insurance company must be carefully read to find out if your pre-existing condition will be covered or not.
The look back period may vary from 3 months to one year. Please read the exclusion section in the insurance policy booklet for exact definition. Make sure you understand the policy wording as it applies to your condition.
For example, A reduction in medication, even if your client's health is improving, may mean the pre-existing condition is no longer stable and controlled. If you are unclear about their condition, refer them to their family physician.
Conclusion
Our licensed insurance advisor will help you find right coverage based on your current health condition. If the insurance company does not cover your health condition or you have not bought a plan which covers your pre-existing condition then you will become ineligibile for a cliam due to your pre-existing condition.
In the absence of medical insurance, you could be liable for significant financial expenses if they become ill or injured while they are here. These fees would have to be paid out of pocket. The super visa medical insurance will protect them from all out of pocket medical expenses to the policy maximum and in addition they can be covered for accidental death also.
Frequently Asked Questions
When should I purchase medical insurance (Visitor to Canada) ?
You can buy the coverage before or after arrival. But we recommend you to purchase prior to arrival to Canada.
Why should I buy travel insurance?
Travel insurance protects you in the case of medical emergencies, delays, theft and the last–minute plan changes that can happen anytime, anywhere, whether you travel frequently or occasionally.
What is the maximum number of days I can buy travel insurance for?
This also depends upon different travel insurance providers. For more details contact us at our toll free number: 1 877 495 2525.
Email: office@lifecareinsurance.ca
What is a Deductible?
This represents the amount of eligible medical expenses that must be paid by the insured before the insurance company begins to reimburse for covered expenses. As an example, if you purchase a plan with $50 deductible and incur $200 of expense, the insurance company will begin to reimburse for expenses after you pay the first $50 of your medical bills.
Why should I contact Life Care Insurance?
You may need service for claims, date change, extension, and increase in coverage, more family member coming to visit or you traveling out of Canada. There could many reasons to contact us and we are committed to provide you satisfactory service as and when you need.
You can contact us through our Toll Free Number 1 877 495 2525.Email: info@lifecareinsurance.ca
Is Life Care Insurance an insurance company?
No, Life Care Insurance and Financial Experts Inc. is Canada's one-stop insurance portal. We are an online insurance shopping tool, providing consumers with insurance information and quote of provide competitive from competing insurance companies, 24/7. We are not an insurance company, but we do work closely with most of Canada's top insurance providers to deliver unbiased information and quotes to our clients.
Is there any cost for getting quotes through lifecareinsurance.ca?
Absolutely not; the portal is a free online service where you can get unbiased quotes.
Requirements to Qualify for Super Visa
Parent or grandparent of Canadian citizen or permanent resident of Canada.
The person must be allowed to enter Canada.
In the application one must Provide proof that your child or grandchild meets the minimum income threshold.
The sponsor must give a written statement that he or she will give you financial support.
Letter of invitation from your child or grandchild.
Have medical insurance coverage for one year with a minimum of $100,000 coverage.
Frequently Asked Questions