Personal Registered Pension Plans available to Canadian incorporated doctors & their families.
Understanding the Personal Pension Plan (PPP®)
The Personal Pension Plan (PPP®) is a solution for Candian for canadian business owners (including incorporated canadian doctors)offering thegreatest tax deductions available under legislation and the maximum accumlated savings for your requirement – surpassing all other retirement savings methods like TFSAs, RRSPs and IPPs.
How much more can you save in a PPP? Potentially $1,660,000…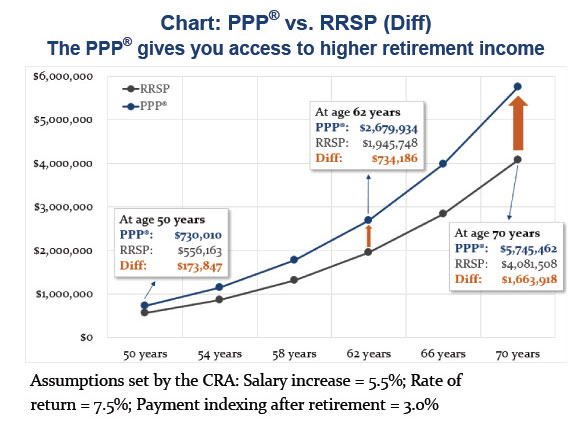 Let's consider a 50-year-old doctor with 20 years of past service and average historical T4 income of $100,000/year, who expects to continue to work for the next 20 years earning a minimum $140,000 of T4 income. As per the graph to the left, under a PPP, this doctor will be retiring with an extra $1,660,000 in their retirement fund, compared to what would have been accumulated in their RRSPs alone.
How is this gap achieved?
regardless of your age, your annual RRSP contribution limit remains constant each year.
by contrast, as you get older, your annual PPP contribution limits grow and exceed those under RRSP rules. The table illustrates extra contribution allowed in the PPP at different ages. (you can set up your PPP as late as age 71)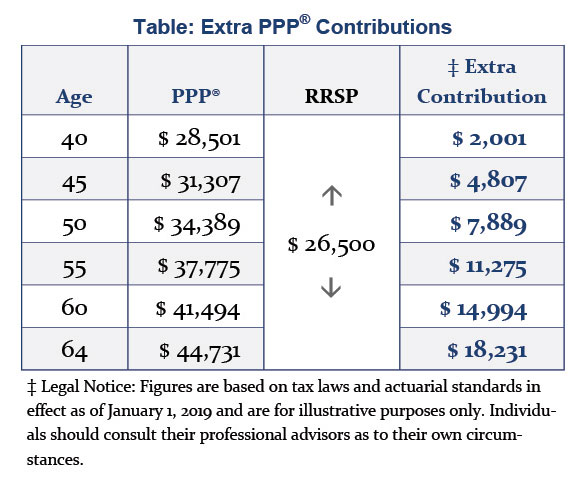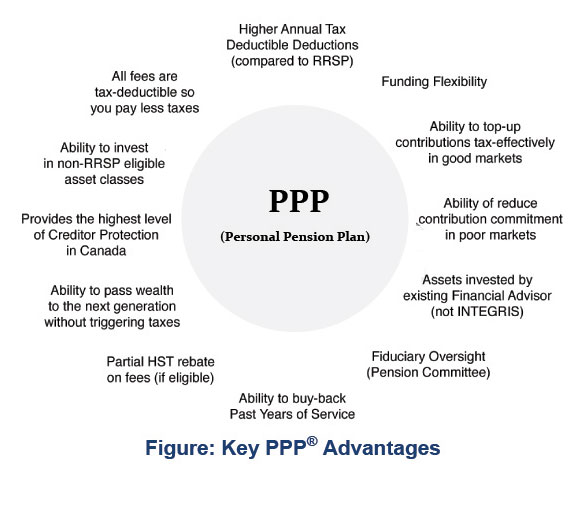 And there is more…
Additionanl annual contributions explain a large part of the extra savings created by the PPP, but is only one of many additional factors that generate this wealth increase. Other pension-specific tad-deductions include: past service buy-back, special payments, fee deductibility, terminal funding etc, as illustrated in the infographic on the left.
contact me to find out more about the PPP and to prepare your own PPP illustration.