Why Financial Planning is important for you?                   
Future is always uncertain; planning for life means building value and realising goals. Money should exactly do the same thing what we expect from it at different intervals of life. This is why devising a financial plan today will not only help you meet your financial requirements today but also to help you live well during your retirement, while taking into account the uncertainty of life event.
So, expect a good, effective financial plan to just the right mix of income, savings, investments, and insurances of various kinds. All this helps you meet your financial goals successfully. The very basic need for you, if you don't have financial plan yet or have one that is just a formality, is to understand it fully well; to understand what a financial plan is in essence and why you must have one.

Well, to be honest, for most people, financial planning is mostly limited to managing day-to-day income and expenses.
Ask yourself following questions :
➤ Don't you have future goals, like buying a house or your children's education
➤ Have you planned for minimizing taxes?
➤ What investment strategy has been formed to grow your wealth?
➤ What about living a respectable life after retirement?
➤ Is it not your income and savings that will make up for those goals?
➤ What about Taxes at Death?
This is why a great financial plan must allow you to balance your present and future priorities and align your income and expenses accordingly.
To put it in simple words, a financial plan is nothing but a list of the priorities—things that must be fulfilled now;
things that you want to achieve in the future—and the way you plan to use your present money towards achieving these goals.
Through a financial plan you can:
➤ Save enough money to meet your short as well as long-term goals
➤ Manage how you will repay your debt
➤ Insure yourself and your loved ones
➤ Plan your and your partner's retirement
➤ Create your estate possessions
➤ Leave a decent legacy for your family after your death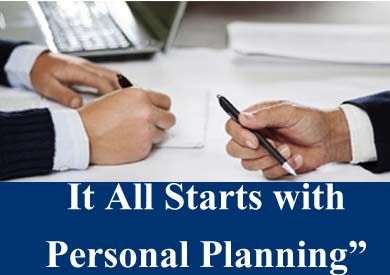 It All Starts with Personal Planning The first step to create a financial plan, even before you hire a professional to make a personalized financial plan for you, is to take a ground reality check. Yes, the very first step is to have a very clear idea of your current financial situation. Without that into account, it would only a foolish idea to proceed.
Take a close look at your present income (primary and secondary in case you have one), and then see where are you spending it. Take note of your spending habits and gauge if they are creating any regular wasteful expenses for you.
Broaden your Horizon
As much as you need to pay attention to your present, you need to throw a glance at the future. Gauging the expected (and unexpected) changes in life is important. You need to know about both, what you need to do with your money today, and what you may want to do with it in future are changes—marriage, children, buying estate, starting a business, retirement, etc.—take place in your life.
Ask yourself questions like:
➤ When do I want to retire?
➤ Will I have saved enough for retirement whenever that is?
➤ If something untoward happens to me or to my job, do I have the financial cushion to fall back on?
➤ Am I ready for increased expenses when I get married, or have children, or even if case inflation kicks in?
Remember, financial goals become a subject of family discussion when you have people to cater to. It's a great idea to sit with family and friends and talk about the future and how expected changes are likely to happen. Write that down and how you are going to work towards meeting the changing demands of life with the money that you have now.
Selecting a financial planning advisor for yourself.
Yes, it's a great idea to take references from friends and family. And it is also a great idea to search over the web. Remember that since it's your money and your future, we are talking about, you need someone you can not only trust but are also comfortable in talking to. You will need someone who can understand your financial situation and guide you honestly. Look for someone who puts their clients first and is a good listener.
And you have a great choice. You don't necessarily have to hire the first advisor to speak with. Take your time to find the right one, even if it means going back and forth. The ease of conversation and the level of mutual comfort in discussing your financial situation and priorities is the key.
➤ Ask them about their experience in the field and if they are certified to carry out financial planning. 
➤ Get to know how good they are at their job. Talk to them about some typical cases that they've managed.
 ➤ Ask what all they can do for you and what not. 
➤ Inquire about the credentials and achievements of the company they work with. 
➤ Ask them what they do to stay updated with latest changes and laws in financial planning. 
➤ Inquire how available they will be before and after they do financial planning for you.
➤ Talk to them about what all needs to be prepared from your side.
➤ Ask them if they have any references you can talk to for their feedback. 
WHY LIFE CARE?
➤ Life Stage Planning- We will help you plan for today, for a better tomorrow.
➤ Providing customized solutions for your unique needs.
➤ We pay special attention to your needs at different stages of the life cycle.
➤ Managing risk and Managing Money.
➤ Your success is our motto.
Professional Help Is Necessary Unless you Are a Financial Planner Yourself
Not everyone comes with a great knack for managing finances. And even if one does, sound financial advice comes with practical experience from having fnes finances for so many clients that come from varied financial backgrounds.
No matter how much money you have, an expert financial planner can help you plan and manage your present and future financial needs.
LEARN MORE ABOUT RETIREMENT